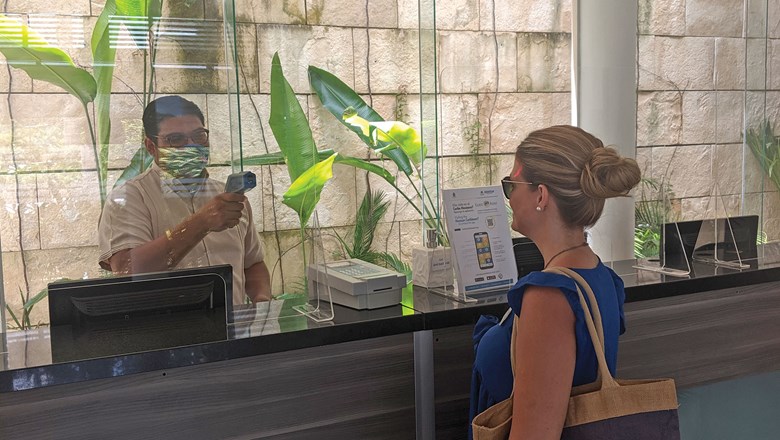 Can one party like a rock star in the age of social distancing?
Travel advisors who have recently visited all-inclusive resorts in Mexico say that although properties are taking their new health and sanitizing standards seriously, the resorts still have plenty to offer vacationers, if at a somewhat reduced scale.
Samarah Meil, owner of Amarillo Travel Network in Texas, was among a handful of advisors on a fam last month hosted by the Hard Rock Hotel Riviera Maya.
"I got asked a week before the trip, and I jumped on it," she said of the fam, during which agents also visited the Hard Rock Hotel Cancun and Unico 2087. "There's no better way to bring confidence to clients than to go myself."
Meil and others were able to experience firsthand the changes properties have instituted in order to reopen: new cleaning procedures, temperature checks, modifying certain venues and experiences to help maintain social distancing.
Meil said she was told that the 1,264-room property was at about 11% capacity during the fam, which took place June 22 to 26. The adults-only Heaven section was closed, with the exception of its spa.
She noted several changes to the in-room experience versus previous stays. "You have to order your minibar; they will restock it, but you have to call room service," she said. "They seal the rooms after they're cleaned. There were no irons or blow dryers in the room; you had to order those. We didn't have turndown service."
A favorite of many guests, the swim-up bar, was not operating. "I'm not a big swim-up bar person, but I will say from our experience they were very good about having lots of waiters around serving beverages and taking orders," she said, adding that staff encouraged guests to practice social distancing in ways they might not have before the pandemic.
"Instead of making you eat or drink in certain areas like they normally would, you could order a pizza at the poolside grill and eat it pretty much anywhere, because they wanted you to spread out," she said.
Dining venues were operating at reduced capacity, she said. "They did have a few restaurants closed, but they alternated some nights.
"They have a Brazilian restaurant that's really popular," Meil said of the resort's Ipanema venue, which normally operates as a churrascaria-style restaurant where meats are brought tableside and diners help themselves to other items at buffet stations.
To minimize person-to-person contact, "they closed that down temporarily, so they were using that restaurant as more of a steakhouse," she said. "They were improvising, and it was a really nice menu. I felt like they had plenty of food options."
She said clients were particularly interested in whether buffets were still in operation. "You think of a breakfast buffet, and that's one of people's favorite things," she said. "They created a menu, and so you were able to order a la carte. If you wanted to do an omelet, you could order it from a waiter. There was no going up [to a buffet station] and doing any of that yourself."
The situation was similar at the nearby Fives Beach Hotel & Residences in Playa del Carmen, according to Janelle Grissinger, president of JCo Travel in Huntingdon, Pa.
"There was only one restaurant open for dinner while we were there," she said of her family's stay at the 662-room property the week of June 8, though she added that the culinary offerings would change nightly: for example, Italian one night, Japanese the next. "Now, that changed right at the end [of our stay]; they were then opening two or three."
Grissinger said she had been eager to get to Mexico once it began reopening to tourism.
"We sell a lot of Mexico, so I wanted to get down there," she said. "'Boots on the ground' is what I always say to agents."
Grissinger and her family flew out of Baltimore-Washington Airport, and "it was the easiest international experience I've ever had."
"On our way down I told my kids, 'Enjoy, this will be the closest to private you'll ever fly,'" she said with a laugh. "Everybody had their own row; we slept the whole way."
Like Meil, Grissinger said staff were taking cleaning and sanitizing seriously, even before check-in.
At the airport, shuttle operator Lomas Travel "sprayed our suitcases down, offered us masks and hand sanitizer, put us in the shuttle," she recalled. "When we were getting out, they squirted hand sanitizer before we walked out of the van."
Upon arrival at the resort, the Hard Rock staff sprayed their baggage again. "They had two mats we wiped our feet on, and then there was a very fine mist  —  I'm going to guess it was a thin alcohol," she said. "Hold your breath and walk through, you could barely feel it. There were stickers all over the lobby to encourage social distancing."
During her family's stay, "We did not see a single person on staff without a mask," she said. "But for the most part, guests weren't wearing masks on property."
Devin Hansen, owner and president of Sunflower Travel in Wichita, Kan., saw how the resumption of tourism was playing out on Mexico's west coast when he brought a group of 18 to the Hard Rock Hotel Los Cabos from June 18 to 27.
Hansen said that Los Cabos' measured approach to reopening tourism inspired confidence among his group.
"I've been emailing the tourism bureau a couple of times asking them questions; they're really responsive, and they really have a documented process for how they're opening up," he said, referring to the destination's five-phase reopening plan. "They've got timelines: They've got 20% of the hotels opening at this point, then it goes to 40%, and then this is going to open and that is going to open. It's black and white, it's not 'we might do this, we might do that.' I think that helps, and I think other destinations should be looking at that."
His group spent some time in Cabo San Lucas, which proved to be quieter than usual. "We went downtown a couple of nights after dinner, and most everything was closing at 11," he said, adding with a laugh that "we probably spent more on the transfers than we did at the bars. There were other people in the bars, and I wouldn't necessarily say they were social distancing. Some people had masks, some didn't."
While nightlife venues might not have been adhering to social distancing recommendations, excursion operators were, he said. For example, Hansen's group of 18 sailed on a 50-passenger catamaran so the vessel could operate at a reduced capacity.
Back at their hotel, the experience was much like Grissinger's and Meil's: masks and other personal protective equipment worn by staff (though typically not by guests), limited dining options, extra-vigilant cleaning and sanitizing.
Still, "we had a blast," he said. "They had live music at the pool, we ate outside at the restaurants. … We all kind of wished we would have stayed another two or three days. Hard Rock's got that vibe about it."
And maintaining that vibe remains crucial even amid today's heightened emphasis on cleanliness and safety, according to Carilis Felipe, director of field sales at AIC Hotel Group, which handles marketing and sales for Hard Rock all-inclusives in Mexico and the Dominican Republic and Unico 2087.
AIC is offering a number of Save Now, Travel Later voucher promotions for its properties, but it's also welcoming advisors to see properties for themselves right now.
"The most common question we got from agents was, is the experience going to be affected?" she said, adding that AIC was preparing to host another 50 travel advisors in the coming weeks. "In conjunction with this, we've worked to keep that Hard Rock expectation, just on a more spaced-out scale.
"But I think the overwhelming comment we've received is just how happy the staff is to have people back and to be working again," Felipe said. "And people have been saying, 'I really feel like a rock star.'"
https://www.travelweekly.com/Travel-News/Travel-Agent-Issues/Advisors-put-boots-on-the-ground-at-Mexico-resorts